In the coming months, Lenovo will be releasing the latest iterations of its 2022 laptop lineup. Each model shows a big emphasis on power and portability, coming with next-generation internals and price tags ranging from under $1,000 to over $3,000. Aside from coming up with never-before-seen laptops, Lenovo's also known for producing practical models that are light on the outside yet beefy on the inside.

Ever since acquiring IBM's computer hardware division over 15 years ago, the company has constantly grown its ever-expanding Think series with better upgrades. Earlier ThinkPad models were known for having chunky, less portable designs but were among the first laptops to come with advanced security measures, such as integrated fingerprint readers and webcam privacy shutters. Lenovo improved on the design using lighter components and better specs, and now it's ready to release the latest versions it's been teasing since last year.

Related: Lenovo's Newest Tablet Is A Gaming Beast

In a press release, Lenovo announced the arrival of its ThinkBook 14s Yoga Gen 2 and the ThinkBook 13s Gen 4 i laptops. Both laptops are equipped with Intel's latest 12th-generation processors, up to a Core i7, including Windows 11 out-of-the-box, and the lineup's signature webcam privacy shutter and integrated power switch fingerprint reader. The ThinkBook 14s Yoga Gen 2 comes with a convertible 14-inch FHD (1,920×1080) display, dual SSD internal storage, and a slew of ports comprised of 2 USB-A slots, 1 Thunderbolt 4, 1 USB Type-C, 1 HDMI and a MicroSD slot, with a starting price of 899€ (about $1,000). On the other hand, the ThinkBook 13s Gen 4 i sports sharper 13-inch WXGA (1,920×1,200) and WQXGA (2,560×1,600) display options and is considered the thinnest ThinkBook ever at just 14.9mm, making it even slimmer than the M1 Macbook Air. Unlike the folding 14s Yoga Gen 2, the 13s Gen 4 has fewer ports and only one internal SSD storage but has a lower 749€ (about $834) entry price.
New Lenovo Laptops With Even More Power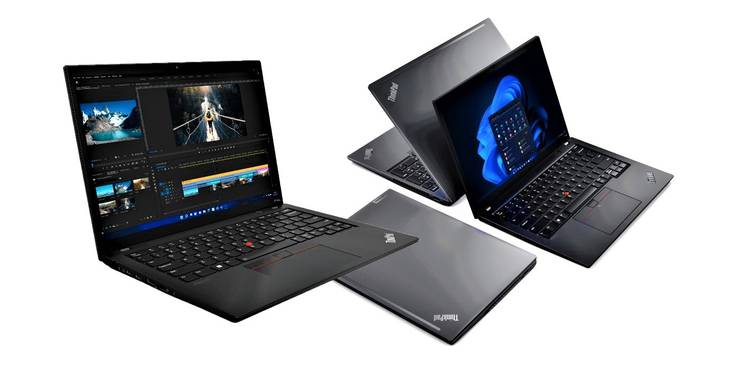 The company also introduced new mobile powerhouses with a bit more oomph, including an update to one of Lenovo's best laptops. The new ThinkPad X1 Extreme Gen 5's powered by a souped-up 12th-gen Intel Core i9, has a 16-inch 165Hz display, dual SSD storage, and can be equipped with Nvidia's dedicated RTX laptop GPUs, all while maintaining a rather slim 17.9mm thickness profile. But, of course, it also costs a whopping 2,749€ (about $3,056). Meanwhile, the new durable AutoCAD-ready ThinkPad P series(P14s Gen 3 and P16s) has larger touchpads that cater to architects and digital designers, coming with 1,529€ ($1,700) and 1,549€ ($1,722) price tags, respectively.
Lastly, its latest ThinkPad T series will be the first devices that come with artificial intelligence-powered proximity sensors that lock and put themselves on standby whenever users are physically away. Like the X1, the T series also has built-in Tile functionality, allowing users to find it when lost, even if turned off. As for pricing, the latest ThinkPad T14, T14s and T16 range from 1,399€ ($1,555) to 1,599€ ($1,777). While Lenovo's next-gen laptops offer enough for people looking for the best mix of productivity, portability and security, those simply looking for an upgrade in specs can find better, cheaper alternatives out there. The new Lenovo laptops will launch in June, with some ThinkPad T and P series variants coming earlier, starting April. Here's hoping they can hold up better than Lenovo's breakable gaming phone.