At Mobile World Congress 2022, Oppo showcased its 150W SUPERVOOC fast charging tech and has promised that it will arrive on a OnePlus phone slated to debut in the second quarter of 2022. Oppo is not the only brand that came with some big fast charging tech claims to the trade show. Realme, an Oppo spin-off, also showcased its take on the 150W fast-charging system at the event.

In fact, MWC was a showcase of fast charging understanding by a few other brands. China's Honor also unveiled its new flagship phone that supports 100W wireless charging and juices up at the same pace via a USB-C cable. Last year, fellow Chinese company Xiaomi made waves with its 200W HyperCharge wired charging tech and is already offering 120W charging tech on even budget phones.

Related: Here's When The OnePlus 10 Pro Is (Finally) Releasing In The U.S.

Oppo came to MWC 2022 to flex its own smartphone charging tech muscles. The first announcement — and also the more realistic one — is the 150W SUPERVOOC flash charge tech. Oppo says it will be a mainstay on future OnePlus and Oppo flagships, racing miles ahead of what Samsung and Apple currently offer. The announcement doesn't come as a surprise, as both the brands share the supply chain owing to their close corporate ties. More importantly, Oppo's official press release notes that the 150W charging tech is coming to a OnePlus phone in the next quarter. Neither Oppo nor OnePlus, have shared any further details about the upcoming device.
It's Fast, It's Safe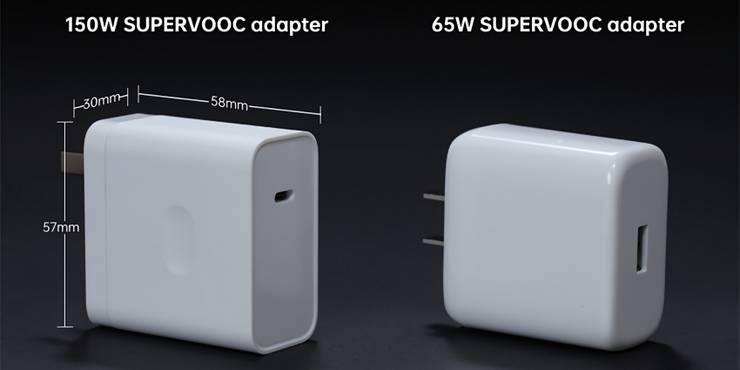 However, leakster Digital Chat Station posted a few details about an upcoming OnePlus phone that sounds like the right candidate. The device in question will reportedly offer a 6.7-inch OLED screen with a 120Hz refresh rate and centered hole-punch camera cutout at the top, an approach that can be seen on the Samsung Galaxy S22 series flagships. The primary camera is a 50-megapixel unit, while the 4,500mAh battery reportedly supports 150W wired fast charging. MediaTek's new Dimensity 8100 SoC will be powering the device, notes the leakster. Murmurs of a OnePlus 'Ultra' phone have been making rounds for a while, but so far, they lack backing from credible sources.
Oppo is not content with just 150W wired charging tech, it seems. Instead, the company is taking the fastest charging tech crown from Xiaomi with its crazy 240W SUPERVOOC flash charge technology. The numbers being touted by Oppo are also mind-bending. With its 150W charging tech, Oppo claims a 4,500mAh battery will go from empty to full in just 15 minutes. But the 240W charging tech will need only about 9 minutes to go from 0 to 100 percent. And to address the safety concerns, Oppo says it has implemented five safety protection measures and relies on a customized monitoring chip to keep things from getting toasty and frying the circuits. For the 150W SUPERVOOC tech destined for OnePlus' next offering, Oppo says it works in tandem with a Battery Health Engine (BHE) that allows the battery to retain roughly 80 percent of its chemical capacity after 1,600 charge cycles.