The Galaxy Note series is officially dead, Samsung has confirmed. The news doesn't really come as a surprise, given that rumors about the demise of the Note lineup have been doing the rounds for a while. Plus, Samsung hasn't released a new Note smartphone since the Galaxy Note 20 and Note 20 Ultra that were launched back in August 2020. The company reportedly halted the production of those smartphones in 2021.

The Galaxy Note series' mainstay is the built-in S-Pen stylus, which offers several customized features apart from the ability to jot down notes or sketch. In 2021, Samsung introduced S-Pen support on the Galaxy S21 Ultra and Galaxy Z Fold3. However, the stylus was sold as an optional accessory. With the Galaxy S22 Ultra, Samsung introduced a complete Note-like experience, since the flagship includes the S-Pen in the box and even has a dedicated slot to house it.

Related: Samsung Galaxy Note 20 Ultra Vs Galaxy S22 Ultra: Buy Now Or Wait?

At MWC 2022, Roh Tae-Moon, head of Samsung Electronics' Mobile Experience business told reporters (via The Verge) that the Galaxy Note lineup had been officially discontinued. However, he mentioned that the Note series would live on under the Galaxy S Ultra moniker, which means that Note fans can expect a new device every year. Note devices were typically launched around August every year, while the Galaxy S series releases in February. Samsung's fall flagship launch event is now used to unveil its foldable lineup consisting of the Galaxy Fold and Galaxy Flip phones.
Galaxy S Ultra Replaces The Note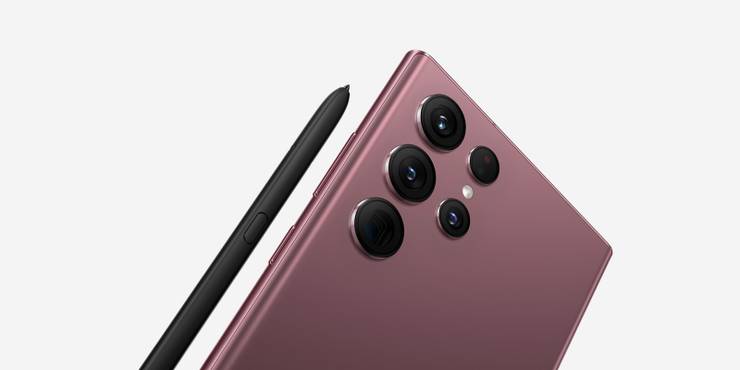 The Galaxy S22 Ultra is the top-end model in the lineup and brings in several premium features targeted at power users. The phone features a rectangular back with sharp edges that are reminiscent of the angular Note design. A dedicated slot at the bottom left corner houses the S-Pen, which has 70 percent lower latency than the S-Pen that shipped with the Galaxy Note 20 series. Samsung has also made the S22 Ultra's display three times more responsive to S-Pen input. All the standard Note features like Air Command, AR Doodle, Samsung Notes, and Smart Select are also available on the device.
When Samsung first introduced the Galaxy Note lineup, the intent was to offer users a large-screen smartphone experience. However, smartphone displays have been getting bigger over the years, with even cheap phones now offering plenty of real estate. In Samsung's case, it left very little to differentiate between its Galaxy S and Galaxy Note series flagships, since both offered big screens and powerful hardware. It was only natural for the brand to consolidate the two lineups. Fortunately for Samsung, that bargain has paid off, with the Galaxy S22 series clocking record-breaking pre-orders, and the Galaxy S22 Ultra driving most of those sales.