How Qualcomm's New Wi-Fi 7 System Improves Immersive Experiences
Qualcomm chips are responsible for many of the advancements in connectivity enjoyed by modern smartphones and laptops, and the latest system adds supports for Wi-Fi 7, which can help improve immersive virtual reality experiences. That means XR and VR headsets will be able to download higher-resolution content for better visuals and high bitrate surround sound, making virtual reality look and sound more realistic or perhaps more fantastic as the case may be.

Qualcomm's new Wi-Fi 7 system is the world's first commercial solution delivered by the FastConnect 7800 subsystem. With super-low latency of under two milliseconds and peak speeds of 5.8 gigabits-per-second, FastConnect 7800 uses Wi-Fi 7 advances to far surpass the 3.6 gigabits-per-second speeds of the previous generation. This allows massive throughput that is ready for next-generation virtual reality and extended reality headsets. Perhaps even more critical is the vastly improved responsiveness. Qualcomm shaved another millisecond off of latency when compared with the very best from last year's FastConnect system. Every fraction of a second is vital in gaming, and this could make the difference between winning and losing in games with high-resolution graphics and fast-paced action.
Qualcomm's Multi-Band Wi-Fi 7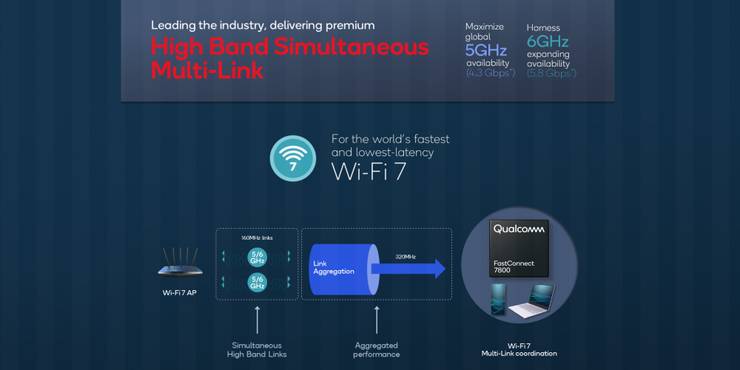 Part of what makes Wi-Fi 7 so fast is the introduction of wide bandwidth multi-link capabilities. This can be simultaneous or alternating connections, offering 60 percent greater speeds and allowing combinations of 2.4, 5 and 6 megahertz signals. This means multiple high-band links can be used simultaneously for incredible throughput. Current VR and XR headsets don't make use of this much bandwidth, but future devices will have room to grow, and Qualcomm's FastConnect 7800 will be powering next-generation smartphone and computer innovations as well.
Dual Bluetooth audio with lossless quality and two times faster pairing is included as part of the package and incorporates Qualcomm's Snapdragon Sound optimization, along with up to twice the connection range. Somehow, Qualcomm manages to pull all of this off while cutting power consumption by as much as 50 percent, compared to the previous generation. That means future Metaverse adventures might last longer, have higher quality imagery and better sound, thanks to Qualcomm's FastConnect 7800 subsystem, which supports Wi-Fi 7.