If you want a new smartphone and have lots of cash to spend, it's hard to do much better than the Samsung Galaxy S22 Ultra or the Google Pixel 6 Pro. Flagship phones have changed a lot in a short amount of time. 10 years ago, some of the best phones had HD+ displays, big bezels, one rear camera, and plastic designs.  Today, they have Quad HD+ screens, nonexistent bezels, multiple cameras, and premium glass constructions.

The Galaxy S22 Ultra and Pixel 6 Pro are both prime examples of how far smartphones have come. They're rocking fast processors, gorgeous displays, and impressive specs in almost every regard. They're also expensive. You'll spend at least $1199 for the S22 Ultra, or a minimum of $899 for the Pixel 6 Pro. If you're having trouble deciding which is the best choice for you, here's a closer look to (hopefully) help you decide.

Related: How Durable Is The Galaxy S22 Ultra? New Torture Tests Reveal All

Both phones impress with their displays. The Pixel 6 Pro comes with a 6.7-inch AMOLED panel, 3120 x 1440 resolution, and a variable refresh rate that scales from 10Hz up to 120Hz. It looks excellent in just about any setting — but the Galaxy S22 Ultra's display is even better. The S22 Ultra initially looks similar on paper, featuring a 6.8-inch AMOLED panel with a 3088 x 1440 resolution. It also has a 120Hz refresh rate, but it can scale all the way down to 1Hz when not actively in use (helpful for reduced battery usage). The S22 Ultra also gets much brighter than the Pixel 6 Pro — offering 1750 nits of peak brightness compared to around 700-800 nits on the Pixel.
The Galaxy S22 Ultra & Pixel 6 Pro Are Two Powerful Phones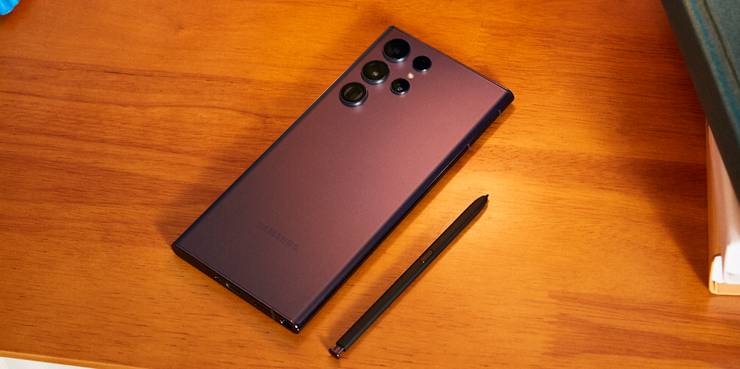 The Galaxy S22 Ultra and Pixel 6 Pro also have among the best cameras available on a modern smartphone. Samsung's handset comes with a 108MP primary camera, two 10MP telephoto cameras, and a 12MP ultra-wide camera. The Pixel 6 Pro has a 50MP primary camera, 48MP telephoto camera, and 12MP ultra-wide camera. No matter which phone you choose, you're going to capture outstanding photos and videos. Which camera system is 'best' really depends on what feature you value more. The Pixel 6 Pro has some really unique AI capabilities, including Real Tone, Face Unblur, and Magic Eraser. The S22 Ultra's secret sauce lies with its two telephoto cameras — enabling impressive zoom shots all the way up to 100x.
Samsung and Google keep trading punches with their internal specs. Powering the Galaxy S22 Ultra is Qualcomm's latest Snapdragon 8 Gen 1 chip. It has a ridiculously fast CPU, a capable GPU, and a smaller fabrication design. The Google Tensor chip in the Pixel 6 Pro doesn't benchmark as well as the Snapdragon 8 Gen 1, but you'd be hard-pressed to be disappointed with it in day-to-day use. It's fast, reliable, and plays graphically intense games without a problem. The S22 Ultra comes with 8 or 12GB of RAM depending on which storage configuration you choose, whereas the Pixel 6 Pro comes with 12GB of RAM by default. Speaking of storage, the S22 Ultra and Pixel 6 Pro each come with 128, 256, and 512GB options. If you need a ridiculous amount of space, the S22 Ultra also comes with a 1TB storage version.
Also similar is the battery situation. The Galaxy S22 Ultra has a 5000 mAh battery, and the Pixel 6 Pro has a 5003 mAh battery. Charging options also have a lot in common. The S22 Ultra supports 45W wired charging and 15W wireless charging. The Pixel 6 Pro gets 30W wired charging and 23W wireless charging. Both phones support reverse wireless charging so they can wirelessly charge other devices. All of the miscellaneous specs are also identical. No matter if you buy the Galaxy S22 Ultra or Pixel 6 Pro, each one has Wi-Fi 6E, Bluetooth 5.2, sub-6 & mmWave 5G, an IP68 dust/water resistance rating, and an in-screen fingerprint sensor.
So, what does all of this mean? The Galaxy S22 Ultra technically has a better display, processor, and camera setup. The only other big advantage of the S22 Ultra is its included S pen — enabling you to draw, write, and doodle whenever you want. Are those upgrades worth spending an extra $300 over the Pixel 6 Pro? That's for you to decide. For most folks, the answer is probably 'no.' The Pixel 6 Pro is an outstanding smartphone, and for $899, it's an exceptional value too. Splurge for the Galaxy S22 Ultra if you have the cash and want the most powerful all-around phone you can get in 2022. Otherwise, stick with the Pixel 6 Pro, save some money, and rest assured that you're still getting an incredible handset.