The Edge+ (2022) is Motorola's latest attempt at creating a flagship smartphone. While it certainly checks many boxes, does the Motorola Edge+ (2022) support expandable storage via SD cards? Motorola's journey in the smartphone space has been fascinating to watch. It's been behind some of the most iconic Android smartphones of all time — including the Motorola Droid, Moto X, and Moto G. Today operating under Lenovo ownership, Motorola now mainly focuses on creating budget handsets. If you're shopping for a phone for about $300 or less, there's a good chance you'll buy one with a Motorola logo on it.

That's what makes the Edge+ (2022) so interesting. Unlike the affordable smartphones that take up most of Motorola's portfolio, the Edge+ (2022) is a fully-fledged flagship. It's rocking the latest Snapdragon 8 Gen 1 processor, a 144Hz OLED display, a massive battery, and the newest Android 12 software right out of the box. It's a phone that can compete with the very best from Samsung and Apple, and that's not something we see very often from Motorola anymore.

Related: Does The Motorola Edge+ (2022) Have A Headphone Jack?

There are a lot of things the Edge+ (2022) gets right, but it also falls into similar pitfalls of other flagship devices. Case in point? The Motorola Edge+ (2022) does not support microSD cards. This means there is no support for expandable storage at all. It's just like what you get with the Galaxy S22, iPhone 13, Pixel 6, or any other modern handset. You buy the phone, get a certain amount of internal storage, and that's it. As annoying as that may be for some shoppers, this is how the vast majority of smartphones are these days.
The Edge+ (2022) Has Three Storage Sizes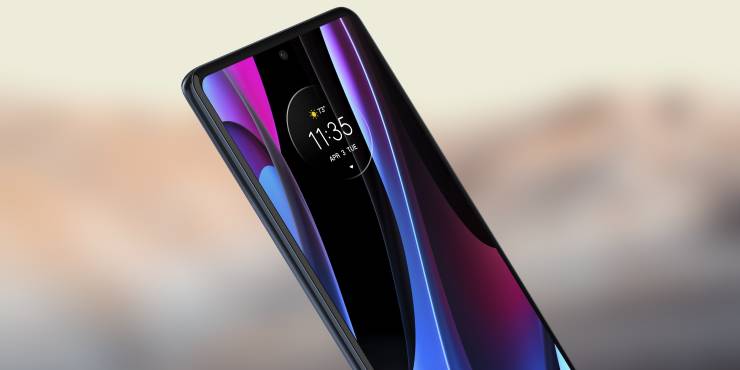 Thankfully, Motorola does have a few different storage sizes available for the Edge+ (2022). The baseline model comes with 128GB of storage. 128GB isn't a huge amount in 2022, but it should still be plenty of space for casual users. If you download a few dozen apps, a couple of light games, and maybe a movie here and there, 128GB is plenty. The next step up takes you to 256GB of storage. That's double the space of 128GB and considerably more spacious for downloading a bunch of offline movies, TV shows, games, etc. If you need even more room, the Motorola Edge+ (2022) also comes with an option for 512GB of storage. 512GB is almost certainly overkill for most people, but if you know you know you need the space (or just have some extra cash to spend), Motorola does have that option for you.
Beyond those storage options, there are a couple of smaller details you may want to consider. The 128GB version of the Edge+ (2022) comes with 8GB of RAM. If you get a version of the phone with more storage, it also gets upgraded to 12GB of RAM. Furthermore, all configurations of the Motorola Edge+ (2022) use UFS 3.1 storage. UFS 3.1 is the latest generation of smartphone storage and the same type used in other flagships. Having an SD card for expandable storage would make things even better, but even in its absence, the Motorola Edge+ (2022) still manages to offer plenty of choices for interested shoppers.