Does Apple's new Studio Display work with Windows PCs? At its Peek Performance event, Apple launched the Studio Display along with the new Mac Studio. Bearing a resemblance to the iMac launched in 2021, the Studio Display is a 27-inch 5K Retina screen that can be connected to a number of Apple devices, including the Macbook, iPad, and the latest Mac Studio. Apart from this, the device supports True Tone technology and has a peak brightness of 600 nits.

Interestingly, Apple has equipped the Studio Display with its A13 Bionic chipset which was launched with the iPhone 11 back in 2019. The processor helps facilitate plenty of features on the monitor including Center Stage via the 12MP ultrawide camera, Spatial Audio, and Apple's Siri voice assistant, which are found on other Apple devices as well.

Related: Apple's Studio Display Costs $1,599: Is It Worth Buying?

The short answer to the Windows compatibility question is yes. Alex Bender, an Apple spokesperson recently told The Verge that the Studio Display "should also work fine when plugged into a Windows PC." Building on that, the hardware features of Apple's new display should support Windows desktops and PCs as well, at least technically. When connected to a Windows device, the camera, microphone, and speakers installed on the Studio Display should work just fine. However, there are a few downsides to this cross-platform compatibility that the Studio Display offers.
There Are Limits To Using Studio Display With A Windows PC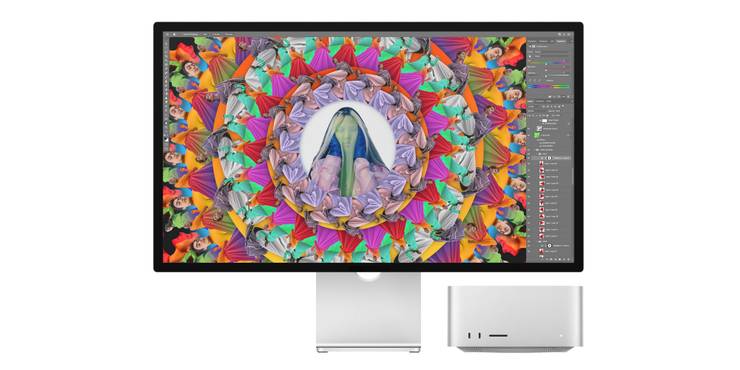 Features like Siri, Center Stage, and Spatial Audio that make the Studio Display special won't be available while using it with a Windows PC. Even though the device has its own A13 Bionic chip, which is pretty capable, Apple restricts access to the features mentioned to devices running macOS. In addition, "Studio Display camera features and firmware updates require connection to a Mac," according to the official Apple website. Users should also keep in mind that not every Windows device supports 5K resolution. In these instances, a Studio Display's resolution will drop to the maximum output supported.
When used with a Windows system, the Studio Display will behave like any other monitor with a built-in webcam and speakers. Considering that the device costs $1,599, buying the Studio Display for a Windows setup might not be a good idea. Instead, users should probably look for a display from companies like LG, Razer, and Asus that offer decent resolution and a higher refresh rate. For non-Windows users, the Studio Display offers solid functionality when paired with a supported Apple device.