Does Apple's iPhone SE 3 Need A Screen Protector?
The iPhone SE 3 is the latest budget phone from Apple with some nice updates, but does it still need a screen protector? No one wants a brand new device to get scratches or, worse yet, a cracked screen. While some smartphones are durable enough to be used safely without extra protection, others are not.

Apple gave the iPhone 12 and 13 a new type of super-strong and scratch-resistant glass over the screen called Ceramic Shield, while the back uses an unidentified glass that seems quite durable as well. Over the years, Apple has worked with Corning, the manufacturer of Gorilla Glass, to formulate its own custom blends that tend to be slightly better, at least according to Apple. Ceramic Shield is the first iPhone glass to be given a name, making it somewhat special.

Related: iPhone SE (2022) Won't Support 5G The Way You Expected

Apple extended some flagship-level protection to its lowest-cost iPhone SE 3, giving it stronger glass on the front and back. Apple claims it's the toughest in any smartphone and matches the glass used on the back of the iPhone 13. That means it's more likely to withstand drops and impacts without cracking. The 2022 iPhone SE's glass can still be scratched and silica, which is a component of sand, silt, and rock, can mark and etch glass. That means care should be taken with where an iPhone SE 3 is stored and placed so that it doesn't get scratched, just like any other smartphone. Super-strong glass helps prevent cracks but doesn't offer much protection against scratches, making the the application of a screen protector the easiest and best solution.
How Durable Is iPhone SE 3?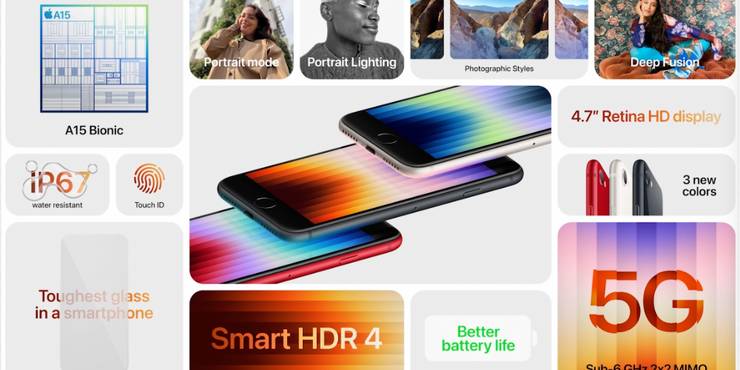 There are different measures of durability, with dust and water resistance just as important as the strength of the glass. With an IP67 rating, the third generation iPhone SE, won't allow dust inside and is safe to use in the rain. In fact, an iPhone SE 3 should be able to survive being fully submerged in three feet of water for up to half an hour. It's not quite as water-resistant as an iPhone 13 which can go to over 18 feet deep but the idea isn't to go swimming with either iPhone. The IP rating simply means a splash of water or brief submersion shouldn't cause any problems.
Ultimately, only smartphones specifically designed to withstand big drops, dives into water, or a gritty environment should be subjected to these challenges. Apple's third-generation iPhone SE is a nice, reasonably durable phone at a great price. A screen protector and a case are low-cost ways to ensure the iPhone SE 3 remains in good condition for many years to come.