If you're in the market for a premium tablet and have a lot of cash to spend, the Samsung Galaxy Tab S8 Ultra and Apple iPad Pro (12.9-inch) are two of the best options available. But which one is ultimately the best choice for you? Tablets are at an interesting place in 2022. Affordable and mid-range ones are excellent for casual movie watching, browsing the web, and playing some light games. Higher-end models do these things even better, along with options to use them as drawing tablets and laptop replacements.

Today, two of the best high-end tablets are the Tab S8 Ultra and the 12.9-inch version of the iPad Pro. Released in February 2022 and May 2021, respectively, both tablets pack a big punch. They're rocking high-quality displays, premium designs, capable processors, and a whole lot more. The tablets are also very expensive — with both starting at the same $1099 retail price. As for which one is the better purchase? That all depends on what you're hoping to get out of a high-end tablet.

Related: Galaxy Tab S8 Vs. Galaxy Tab S8 Ultra

Starting with the display, both the Tab S8 Ultra and 12.9-inch iPad Pro bring the heat in this department. The Galaxy Tab S8 Ultra features a massive 14.6-inch Super AMOLED display, 2960 x 1848 resolution, and a variable refresh rate that goes up to 120Hz. For its part, the iPad Pro comes with a 12.9-inch Liquid Retina XDR display using mini-LED technology. It also has a 2732 x 2048 resolution and a 120Hz refresh rate. The screens on both tablets are incredible to look at, though each one has its strengths and weaknesses. As excellent as the iPad Pro's mini-LED display looks, having an AMOLED panel on the Tab S8 Ultra gives it more vibrant colors and deeper blacks. The larger size and 16:10 aspect ratio also make it ideal for gaming or watching movies, but less convenient for certain productivity work. That's where the iPad Pro really shines. Its 4:3 display ratio is better suited for web browsing, document creation, and allows it to be comfortably used in landscape and portrait orientations. It also has a much brighter screen, offering 600 nits of max brightness, 1000 nits of max full-screen brightness, and 1600 nits of peak brightness when viewing HDR content. The Galaxy Tab S8 Ultra can only get up to 420 nits of brightness, making the iPad Pro a much better choice if you're frequently using it outdoors or in areas with a lot of light.
The Tab S8 Ultra & iPad Pro Are Both Excellent Tablets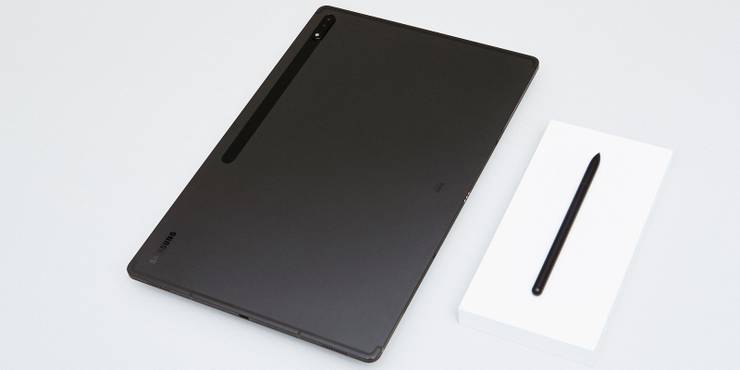 Taking a look inside the tablets, each one is equipped with excellent internals. The Galaxy Tab S8 Ultra has a Snapdragon 8 Gen 1 processor, up to 16GB of RAM, and up to 512GB of storage. The iPad Pro (12.9-inch) matches all of that with an Apple M1 processor, up to 16GB of RAM, and up to 2TB of storage. The simple truth is that the Tab S8 Ultra and iPad Pro are both extremely fast and powerful machines. No matter what app or game you want to use, both have the chops to handle it with ease. Apple certainly has the edge for built-in storage, but the Tab S8 Ultra allows users to expand it via a microSD card — something the iPad Pro lacks. The two tablets keep trading punches with some of their miscellaneous specs. The Tab S8 Ultra has Wi-Fi 6E compared to Wi-Fi 6 on the iPad Pro. Samsung also uses the newer Bluetooth 5.2 standard instead of the Bluetooth 5.0 used on Apple's tablet. But the iPad has its own share of advantages. Both tablets have quality front-facing cameras with automatic panning features, but Apple's implementation has proven to be much more reliable. The iPad Pro also supports Thunderbolt 4 with its USB-C port, whereas the Tab S8 Ultra has a less capable USB-C 3.2 port.
While all of that's certainly interesting, perhaps the biggest differentiator between the Tab S8 Ultra and iPad Pro is the software each tablet's running. The Galaxy Tab S8 Ultra ships with Android 12 and Samsung's One UI interface. Using the Tab S8 Ultra with the 'normal' Android interface, the experience can often feel a bit unfinished. Many Android apps aren't properly optimized for tablet displays, and when used on a massive 14.6-inch canvas, they often look stretched out and a bit awkward. However, Samsung remedies this with its DeX interface. DeX gives the Tab S8 Ultra a home screen that looks identical to Windows or Chrome OS. You can run apps in their own windows, easily move files around, and generally take make much better advantage of the huge display. iPadOS 15 on the iPad Pro doesn't have anything like DeX, but it does benefit from having apps and games that are typically better optimized for it. And thanks to Apple's Universal Control feature, the iPad Pro makes an incredible companion device to an iMac or MacBook.
Which of these experiences is best for you? That all depends. If you plan on watching a lot of movies, doing productivity work with DeX, and want one of the biggest tablets currently available, the Samsung Galaxy Tab S8 Ultra is an impressive package. It also ships with a free S Pen in the box, allowing you to start drawing and sketching without having to spend extra money. That makes the iPad Pro look like a tough sell, but it's still the better choice for certain people. If you want a tablet that's smaller, has a more practical display, and if you spend a lot of time in the Apple ecosystem, the 2021 iPad Pro (12.9-inch) remains an excellent purchase.