Finding the right fitness tracker to kickstart your fitness journey is no easy task, but for shoppers looking for an affordable and accessible gadget, the Amazon Halo View is well worth your consideration. The market for fitness trackers/smartwatches is more competitive than ever. The Apple Watch is a go-to choice for iPhone users, Fitbit wearables are everywhere, Garmin has a robust lineup of fitness watches, and there are options from smaller brands like Amazfit and Oura. To say that the market is saturated would be the understatement of the year.

That's what made Amazon's entry into this space so interesting. Amazon launched the first Halo Band in August 2020 to very mixed results. The fitness tracker was fine, but it failed to make considerable headway against its competitors. It didn't have a display, was tied to a very barebones Halo app/subscription, and wasn't a great value proposition at $100. One year later, Amazon tried its hand again with the Halo View. This latest model added a much-requested screen, came with a year's worth of improvements to the Halo app, and had a lower price of just $80.

Related: Amazon Halo View Vs. Amazon Halo

All of that sounds great on paper, but what is it like to use the Halo View? I spent about two weeks with one to figure out that answer myself. In short, I came away pleasantly surprised. The Amazon Halo View is far from a perfect fitness tracker, but it's also not a boring Fitbit clone like others have suggested. From comfortable hardware, plenty of tracking features, and an excellent app experience that's constantly getting better, the Amazon Halo View is one of the best value fitness trackers available today.
Things I Love About The Amazon Halo View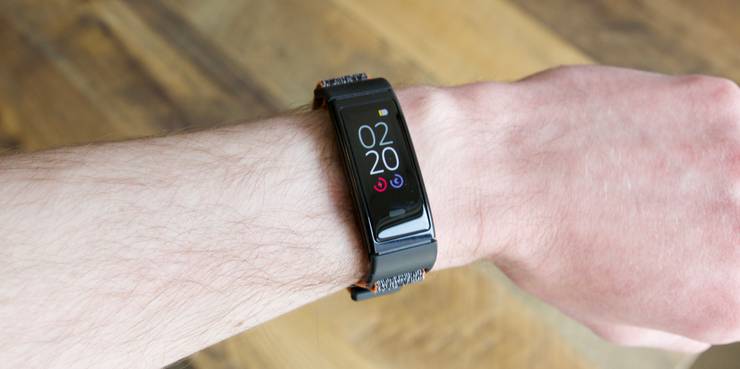 Let's get all of the basics out of the way first. The Amazon Halo View has all-day activity tracking to keep track of users' steps, heart rate, and calories. There's also built-in sleep tracking to see the quantity and quality of your sleep. A water-resistance rating up to 50M keeps the Halo View safe when tracking your swims, and it even has on-demand blood oxygen tracking. In our testing, all of these things worked as accurately as you'd expect. There were slight variances in step, heart rate, and blood oxygen measurements compared to an Apple Watch Series 7, but nothing that makes the Halo View's numbers overly inaccurate. Like other fitness trackers in this price range, Halo View has the basics, and it executes them well.
While none of that's particularly groundbreaking, what makes the Halo View unique is how it tracks and analyzes that data. Every fitness tracker/smartwatch does this differently. Fitbit trackers put a significant emphasis on daily step goals, and the Apple Watch has its daily activity rings. The Amazon Halo view ditches these daily counters and instead tracks 'Activity Points.' Activity Points are awarded for all of your activities throughout the day and weighted differently. Light activity earns 1 point per 20 minutes, moderate activity earns 1 point per minute, and intense activity earns 2 points per minute. Different activity levels are based on your heart rate. The harder your body works, the more points you earn.
That alone is interesting enough, but Amazon takes it a step further. Instead of making users reach a certain number of Activity Points every day, users work towards a weekly goal. It's automatically set at 150 points per week and only increases if users go beyond that. This doesn't sound like a massive change on paper, but in practice, it makes the Halo View a much more welcoming experience. Being pushed to get X amount of steps every day can often be reductive for building healthy long-term goals. Getting a certain number of points every week has been considerably more enjoyable. If I decide to have an intense workout one day, I can take a day or two off and still reach my goal and be awarded appropriately. It's a rewarding, manageable system and something I hope other companies take note of and adopt for their own trackers.
Related: Apple Watch Series 8 Might Lack A Crucial Health Feature
Then there's the Halo View's hardware. While it certainly won't win an innovative design award any time soon, Amazon nailed (almost) all of the fundamentals. The Halo View is ridiculously lightweight. Weighing around 20g with a band connected, the Halo View is lighter than other fitness trackers like the Fitbit Charge 5 and Fitbit Luxe. It's also nearly half the weight of an aluminum Apple Watch Series 7. This makes it extremely comfortable to wear while working out or sleeping — to the point where you'll almost certainly forget it's even on your wrist. When you remember you're wearing the Halo View and want to interact with it, the small OLED display looks fantastic. Colors are vibrant, the text is easy to read, and blacks are pitch black. Having to manually adjust brightness is annoying, but for an $80 tracker, the screen quality is top-notch. Making the display even better is how responsive the interface is. From navigating menus, starting an exercise, or viewing activity stats, the Halo View is consistently snappy.
As for what you can do with that interface, it is decidedly limited. Swiping left and right on the clock shows a few of your biggest health stats — including your heart rate, activity points, steps, calories, and sleep. Swiping up and down reveals dedicated Data, Exercise, Tools, and Settings pages. Amazon also added a handful of 'smart' features. There are timer, alarm, and stopwatch apps, along with an option to receive text message notifications from your phone. That's admittedly not a lot, but I like Amazon's approach here. You can quickly see essential health stats with a couple of swipes/taps and then be on your way. There's no unnecessary bloat to speak of. It keeps the Halo View responsive, and it creates a positive experience each time you interact with it.
And, last but certainly not least, there's the Halo companion app. This is how the Halo View connects to your smartphone and allows you to see all of your health data more easily. It's also how users access the Halo Membership. Everyone who buys a Halo View gets one year of Halo Membership for free. After that, it's just $3/month. The Halo Membership includes a ridiculous amount of content. It gives subscribers more in-depth activity and sleep tracking, Amazon's Body Composition and Movement Health features, guided workouts and health programs, personalized weekly menus with nutrition coaching, and more. Compared to similar memberships like Fitbit Premium and Apple Fitness+, the Halo Membership is a tremendous value.
How Amazon Halo View Could Be Improved
As impressed as I've generally been by the Halo View and its accompanying membership, some things could be big turn-offs for users — the Halo Membership itself being one of them. The Halo Membership is an undeniably good deal and a better bargain than similar subscriptions from Fitbit and Apple. The problem is that so much of the Halo experience is locked behind that membership that you almost have to subscribe if you want to get anything worthwhile out of the Halo View. That's not a huge deal when you get a free 12-month trial and only have to pay $3/month after that, but it still means adding yet another subscription service to your budget.
Related: The Best Fitness Bands For iPhone
I also wish Amazon had spent more time on the Halo View's hardware. Along with the boring design, Amazon's proprietary band system isn't great. The Halo View's bands are difficult to attach and far too easy to pop off. While walking one day, I had one end pop off just because it got stuck in my jacket the wrong way. Proprietary watch/tracker bands are fine when designed well, but Amazon needs to rethink this one. I also haven't been thrilled with battery life. Amazon advertises up to 7 days of battery with the View. In testing with moderate activity throughout the week, I charged the Halo View about every 5 days. That's good, but it's also not the best endurance you can find in this form factor.
Those complaints are just minor annoyances compared to my next gripe, though. The Halo View doesn't support GPS — at all. There's no integrated GPS chip or GPS compatibility when connected to your paired phone. In practice, this means the Halo View is incapable of tracking distance, pace, mile splits, and map data of outdoor runs, walks, and bike rides. What data do you see during these types of workouts? Your heart rate, steps, calories… and that's it. This may be fine for casual users who are just getting started with their fitness journey, but it leaves so much to be desired for anyone who's even slightly more advanced/experienced. Even if you're trying to run your first 5K, get into bike riding, or improve your evening walks, the Halo View is extremely lackluster here. I can understand not integrating GPS into the tracker itself, but it's a huge omission to not even offer connected GPS data with a smartphone. Even for relatively new runners, joggers, or bikers, that alone could be the Halo View's deal-breaker.
Should You Buy The Halo View?
There's a lot about the Halo View that's fantastic. The tracker itself is comfortable, responsive, and has an excellent display. The real magic, though, lies in the Halo app. It's easy to use, has a ton of content to dig into, and presents all of your health data in a very welcoming manner. I also can't stress how much I love Amazon's Activity Points. As someone who often gets discouraged about working out when I miss a daily step or activity goal, switching to a weekly goal that rewards me for all of my physical activity — whether it's big or small — has been outstanding.
But that praise does come with severe drawbacks. A poorly designed band system and below advertised battery life are annoying, but they're also things I can live with. What's less forgivable is how limited other aspects of the Halo View are. Not being able to see distance, pace, heart-rate recovery, and other critical data for workouts is very disappointing. Beginners may not care about that data, but anyone even remotely deeper in their fitness journey is bound to have a problem with that.
That all puts the Halo View in a tough spot. Parts of the experience are legitimately thoughtful and game-changing. But other parts make the Halo View feel incomplete. If you're aware of the Halo View's shortcomings and don't mind them, this could be one of the best fitness trackers for you. It's comfy, easy to use, and an excellent introduction to the world of healthy living. But if you want anything at all more advanced than that, you're better off looking elsewhere.