The smartphone industry is currently evolving towards foldable phones, somewhat like the transition from button-heavy phones to fully touchscreen slabs. Apple helped bring the modern smartphone design to the mainstream, while Samsung did something similar with foldable phones. It would be an understatement to say that Samsung's journey started with a hiccup, but the company is now at the vanguard and is nearly synonymous with the foldable idea. Enter Oppo with its Find N foldable, a device that takes a bold step to own the foldable game. And to a large extent, it has delivered a solid device without any significant caveats.

This is one fully decked-out flagship, in and out. Snapdragon 888 leads the charge, paired up to 12 gigs of RAM. The 4,500 mAh battery allows 33W wired fast charging, while the wireless charging hardware transfers juice in both directions. The two 32-megapixel front cameras take vibrant selfies with a sufficient amount of details intact and a dash of skin smoothening. The triple camera array at the back includes a 50-megapixel primary snapper, a 16-megapixel ultrawide shooter, and a 13-megapixel telephoto sensor with 2x optical zoom output.

Related: Google Is All In On Foldables, Introducing The Android 12L Developer Beta

Although Oppo's software tends to lean towards warmer tones with a tad ambitious color saturation, photography results are impressive. But many people prefer such results as they look good on social media. Overall, the imaging department is high-end stuff that falls squarely in the flagship league. There are a ton of camera tricks to play with as well. Oppo hasn't cut any corners here that could be called a red flag. However, a person willing to spend north of $1,200 for the Oppo Find N is not in it for the cameras. For that price, the Galaxy S21 Ultra, Apple's iPhone 13 Pro duo, and Oppo's own Find X3 Pro will be a better choice for clicking pictures and capturing videos.
That premium price tag is for the foldable experience, and Oppo has done a terrific job here. And in its very first attempt, no less. The design and the form factor where the Oppo Find N truly shines. The hinge mechanism is solid with 120-degree movement flexibility. But what's truly impressive is the near gapless design. The two halves sit almost flush, with the gap being so small that one can't pass a sheet of paper through it. In comparison, Samsung's flagship foldable has a wedge-shaped gaped when closed, allowing unhindered access to dust particles and exacerbating the risks of liquid damage to the fragile foldable panel.
Over at the front is a small-ish 5.5-inch (988 x 1972 pixels) screen with a natural-feeling 2:1 aspect ratio. It's pleasingly handy and functionally superior to its main rival, the Samsung Galaxy Z Fold 3. Just take a look at the comparison shot with the Google Pixel 4a (below) to get an idea. It is nearly the same size as the iPhone 13 Mini, one of the few 'small' phones still in the market. And despite its small-ish cover display, it's perfectly usable. In addition, the keyboard is not a typo-machine cramped layout on the Oppo Find N, unlike the Galaxy Z Fold 3.
Related: Does The OPPO Find N Have A Stylus? What You Need To Know
Apps and on-screen content on the Oppo Find N's external display don't feel crushed, and interactions feel natural on its 'regular' aspect ratio. The Galaxy Z Fold 3's cover display measures 6.2-inches, but it's a tad too tall. Yes, it's excellent for scrolling social media feeds as it fits more content, but typing on it feels like a test of patience against typos due to the small buttons. Even people with 'normally thick' fingers will have to live with the frustration. In fact, users playing something as simple as Candy Crush will feel like it's an exercise in digital stoicism.
The Oppo Find N doesn't force a predicament like that. Playing a title with a ton of on-screen buttons like Call of Duty: Mobile is still a stretch, both because of the small-ish screen real estate on the front and because the phone's weight and thickness aren't too forgiving ergonomically. On the Samsung Galaxy Z Fold 3, it becomes even worse with the vertical screen space confinement problem on top.
Unlike Samsung's S-Pen toting foldable, Oppo is not too keen on the idea of a stylus, at least for now. Another minor caveat is that Oppo Find N's cover display is a regular 60Hz panel. Personally, it wasn't a red flag, as cover display activity mainly was restricted to handling calls, a bit of messaging, and responding to a mail or two on a day-to-day basis. None of those need a high-refresh-rate panel to boost the experience in any meaningful way. Plus, going with a 60Hz panel is less taxing on the battery, which also has to support a larger foldable panel. Where it's needed, though, Oppo has delivered.
Related: Oppo Find N Vs. Galaxy Z Fold 3: Which Folding Phone Is Best?
The internal 7.1-inch (1792×1920 pixels) OLED panel is covered by a layer of Ultra-Thin Glass (UTG) from Schott, the same German brand that supplied UTG films for Samsung's new foldable phones. The peak refresh rate is 120Hz, but it can drop down to 120Hz based on the on-screen activity, similar to Apple's ProMotion tech on iPhone 13 Pro. The display is sharp, produces punchy colors, and offers good viewing angles. However, Oppo has raced far ahead of its rivals in one key area — the dreaded crease. Or, to put it more accurately, the lack of it.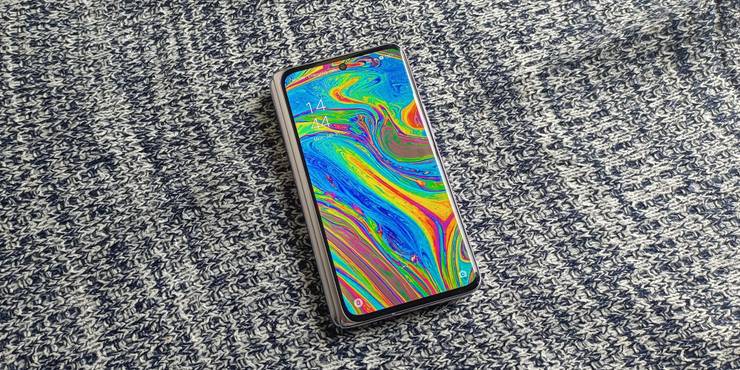 Unlike the Galaxy Z Fold 3 or Z Flip 3, the crease along the middle is barely noticeable. Only when someone wants to see it, the vertical crease becomes apparent. It doesn't become an eyesore during usage, though, be it watching movies or running two apps side by side. Talking about split-screen multi-tasking, swiping down two fingers from the top splits the screen into two halves for running a pair of apps. The slicing gesture is a neat little convenience and makes for a good system-level trick.
The floating window system has been implemented well, and a sidebar tray for accessing frequently used apps is something that Samsung serves too. Just like Samsung's foldable, selfies can be clicked using the rear cameras, with the cover display acting as a viewfinder. The phone can be positioned as a laptop in the camera app, pushing the viewfinder in front of the eyes while the lower half angled at roughly 90-degrees can be used to fiddle with manual controls like exposure and white balance. But not everything is excellent here, especially on the software side of using the inner tablet-sized screen.
Related: Is Apple Making A Flip Phone? What We've Heard About Apple's Foldable
Third-party apps, in particular, open in a weird 16:9 center-aligned view with thick letterboxing on either side. Users can choose to push the active app area to either side, leaving the remaining half to serve as a blurry, useless waste of screen real-estate. Oppo offers an option to switch from 16:9 to 4:3 aspect ratio on a per-app basis, but it only makes the pillarboxing slightly narrower. Users need to switch to the full-screen mode to get rid of it entirely. Now, the content gets stretched to occupy the whole inner display, and it feels great when reading a book. However, for scrolling through Instagram, it just looks weird with only one post hogging the entire screen at a time. To put it simply, not the best for doomscrolling aficionados.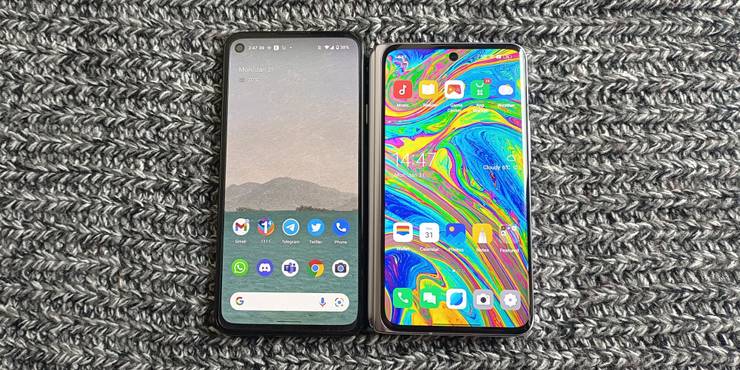 While playing games, one must choose between sacrificing the surrounding landscape or tolerating thick bars at the top and bottom. Oddly, laptop mode doesn't work for YouTube. Hopefully, Google's foldable-focused Android 12L will better optimize the Find N's UI to polish some of those chinks. The review unit provided by Oppo missed core Google services like the Play Store, but that's business-as-usual for users in China, where the phone is currently up for grabs. In other markets, not so much. Just look at Huawei and its fall from dominance, as U.S. government sanctions forced it to drop these core Google services from its phones. Needless to say, folks interested in importing it from China should be aware of the software limitations.
Oppo hasn't shared any plans of launching the Find N in the U.S. market. However, despite its minimal market availability, the Oppo Find N is a victory in itself. It's a fully-loaded flagship package that's impressively affordable. Even a value-centric brand like Xiaomi sells its Mix Fold for about $1,500 based on current conversion rates. But more than just raw value, the Oppo Find N redraws the lines of how a foldable phone can differ in design and its sheer usability approach.
Related: Google Pixel Foldable Spotted On Geekbench With Codename 'Pipit'
The compact device is a pleasure to use, and it gives foldable phone shoppers a solid alternative that looks and feels different without cutting any serious corners. And the fact that it's a few hundred dollars cheaper is just a cherry on top. Plus, if digital assets spotted in Android 12L Beta's code are anything to go by, the mythical Pixel Fold aka Notepad might look more like the Oppo Find N than the tall Galaxy Z Fold 3. Oppo is rumored to be developing more phone-tablet hybrid and foldable clamshell smartphones. And given the solid splash made by the Find N, its successors might well be headed to international markets after the soak test with its first foldable outing.